Allies: Don Greenwood (Bid: 2.0 POC)
Axis: Tim Tow
Report by Tim Tow

Turn 1: Allies go with Barents on 1 and the Axis dodge. Repulse is hit for 1 damage point while Allied air manages a meaningless disable in the Med.
End of Turn 1 score: +1 POC for the Allies.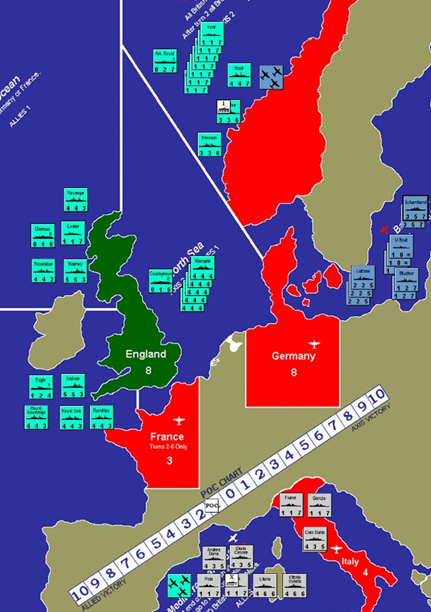 Turn 2: Allies go for 3 areas living the North Atlantic open. Subs go to the South Atlantic, where 1 is sunk and the Eagle is disabled. Axis LBA sinks the Ark Royal while the Allies sink Andrea Doria and Pola.
End of Turn 2 score: All square.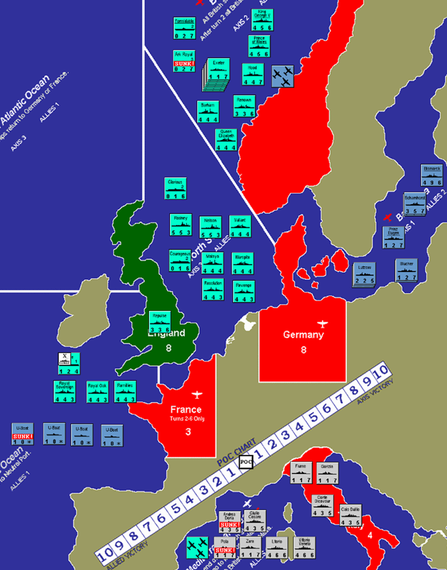 Turn 3: 3 areas again and 4 speed roll failures of 4 British Battleships to the Barents tempts the Axis to sortie. Leaving 1 cruiser in the Baltic, the rest go to the Barents.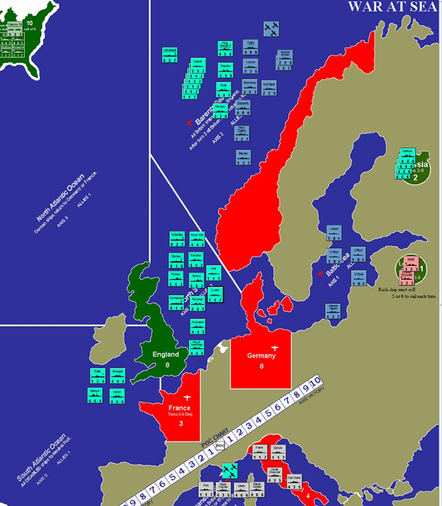 In the ensuing air phase, Axis air cripples the Renown while Allied Air misses. Rd 1 sees the Bismarck taking 3 damage and the Scharnhorst 2 and a disable and the disablement of the Gneisenau. Axis return fire sinks 4 cruisers and the Hood, crippling the Repulse, and disabling 1 cruiser, -2 and disabling the KGV. Allies withdraw in 4 separate groups and the Axis pursue 3 of them sinking Repulse, Renown, but only disabling Formidable.
Allies concede at this point with the exchange ratio drastically in the Axis favor.
FINAL GAME RESULT: Axis 10-point victory - Allied concession after Turn 3 (Axis lead of 5.0 POC after the bid)